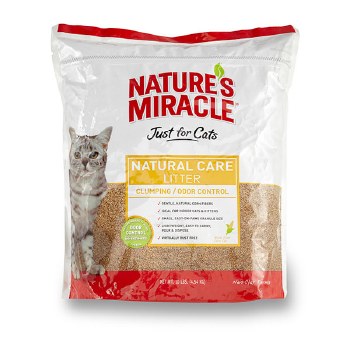 Nature's Miracle - Natural Care Corn Cat Litter - 10lb
Product Code: 12282
$9.99
Nature's Miracle® Natural Care Litter controls tough odors and is gentle enough for your cat or kitten.

Featuring Nature's Miracle's Advanced Bio-Enzymatic Odor Control System, our formula begins to destroy urine, feces, and ammonia odors on contact to prevent odors from spreading throughout the home.

The Bio-Enzymatic Odor Control System continues to work to eliminate odors for a fresh litter box environment. Natural corn cob granules absorb four times more than conventional clay litters and are fast-clumping to trap odors and wetness quickly preventing sticky, messy cleanup.

Our lightweight, non-toxic formula is sifted to ensure a gentle surface that is easy on cuts or wounds and soft enough for your indoor cat or kitten.

Nature's Miracle Natural Care Litter contains no clay or dyes, relies on natural pine odor control, and is virtually dust-free for a healthier litter box environment for your cat.