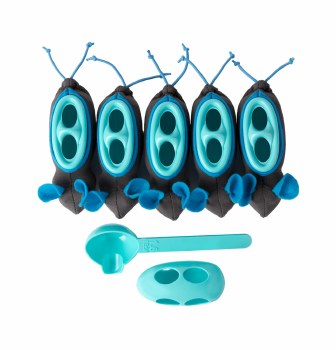 Doc & Phoebe's - Indoor Hunting Feeder
Product Code: 30054
$19.99
When your cat "hunts" for its food, it's happier and healthier. And that means you are, too.

The Indoor Hunting Feeder is a complete bowl replacement for one cat. Hunt, catch and play with five small meals a day. Decrease anxiety, reduce the instance of scarf and barf, end early wake up calls from a hungry cat, and correct your litterbox woes with five easy and fun feeders a day. Give your cat the best science has to offer with a feeder designed for their natural instincts.

Each Doc & Phoebe's Indoor Hunting Feeder includes:
- 1 Trainer, complete with multiple dispensing holes
- 5 Feeders, each with two dispensing holes - designed for any size kibble
- 5 Feeder Skins designed to simulate the tactile feel of prey allowing your cat to grab, claw and use its teeth as it would in the hunt
- 1 Scoop which holds 1.6 tablespoons (1/5th the daily ration of an average 10lb cat)

Designed and tested in the USA. Manufactured in China. Intended only for use by cats. Not intended as a toy for other animals or children. Remove from cat if any part becomes loose or damaged.