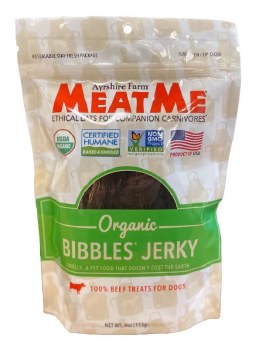 Ayrshire Farm - Meat Me - Beef - Bibbles Jerky - 4 oz
Product Code: 32948
$11.99
Ayrshire Farms takes treats to the next level by providing human-grade treats using sustainable, humane farming practices. You can count on all MeatMe products to be made with traceable, responsibly sourced meat, born and bred in America.

- Gently dehydrated organic beef from our own farm and carefully selected partner farms.
-Certified Organic, Certified Humane®, and Non-GMO.
-Made in our own USDA-inspected processing facility.

Ingredients:
Organic Beef

Guaranteed Analysis:
Crude Protein (min): 76.9%
Crude Fat (min): 12.1%
Crude Fiber (max): .41%
Moisture (max): 8.78%

Calorie Content:
102 kcal/oz
Customer Reviews
Average rating:
---
Dog Approved, 4th May 2020
Reviewer: Darcy Mattis
I purchased a bag of this jerky to give my treat-lovin dog something new... he was getting bored with his other treats. As soon as I opened the bag, he was right by my side wanting to smell the bag, inspect it, and as soon as I gave him one he took it to his spot and ate it right up. These have definitely become his favorite treat and we have added them to our "must have" list.

They have not stained his fur, nor the area of the rug he has claimed as his own.